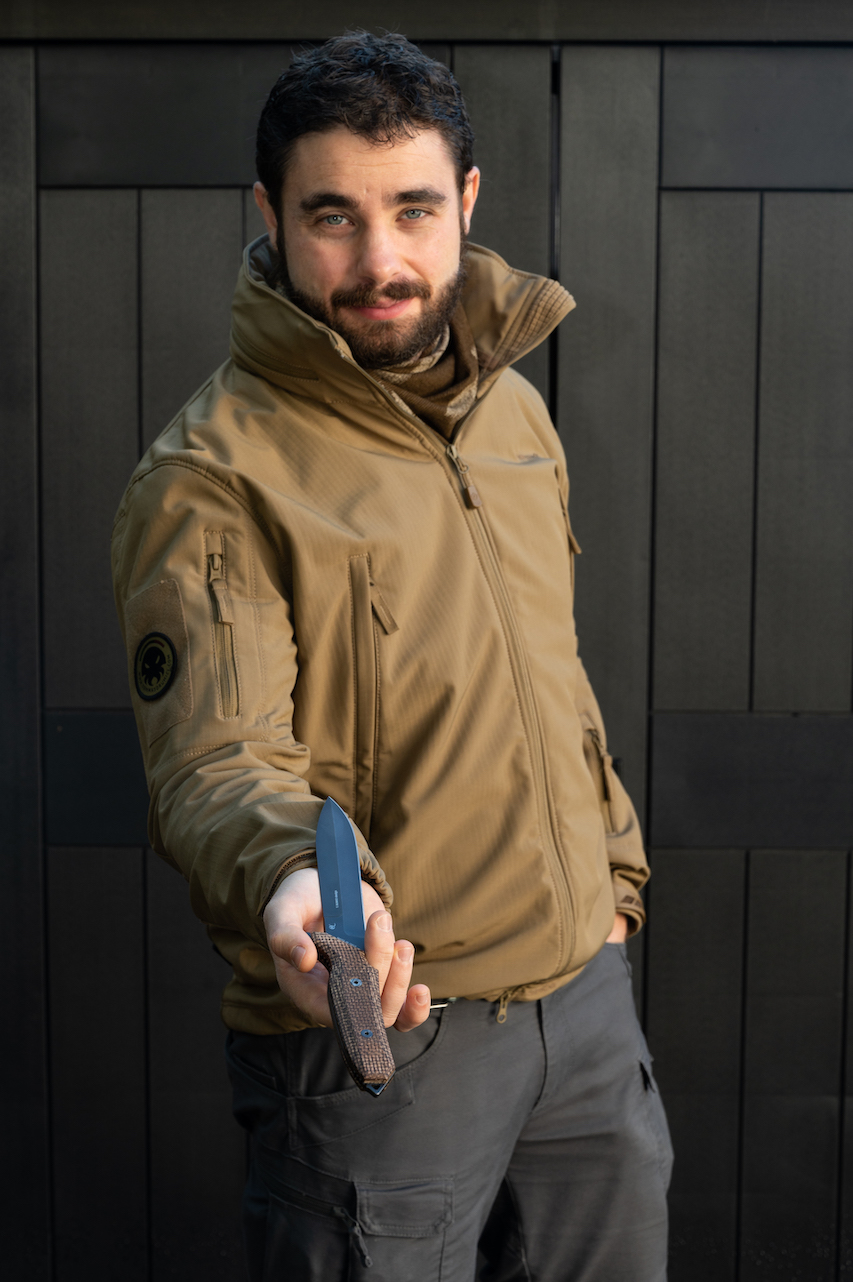 About Me
I was born in 1983, and as a child I always used blades of various kinds, both for outdoor and woodworking. Over time I got into the knives in general, and to sports and the military ones in particular.
Attending my local cutlery shop, named Scintilla cutlery (
www.coltelleriascintilla.com
), I established a lasting friendship with Francesco and Marco Spessotto.
Later I joined the forum of the largest Italian online cutlery shop, the Collini Cutlery (
www.coltelleriacollini.it
), being a moderator for several years. I became a friend of Davide, which among other things coordinated moderators, and the owner, Rudy.
In 2005, after gaining experience using industrial products, I was developing a knife for myself, which I intended to commission to a knifemaker.
Rudy Collini, after seeing drawings and prototypes, convinced me to propose my idea in Maniago, home to almost all the major Italian cutleries: a year later, Viper introduced my first design during the EXA Show in Brescia, which at the time was the main Italian exhibition.
That knife was the
Fearless
.
Besides working as a designer, I write on several Italian and international knife and gun magazines, attending major trade fairs to get a clear vision of market trends.
This also helps me stay up to date on the new items of all the world's leading companies, maintaining a valuable direct contact with manufacturers, knifemakers, and end users.
Philosophy
In my projects, I always put in the foreground functionality and ergonomics. As regular knife user, I believe aesthetic to be very important but necessarily subject to performance, which must never be undermined: I create objects for real use with clear, never random, lines.
To those who ask me why they should buy one of my knives, I suggest to give up the name on the blade, pick it up and judge by that. Since my work is also my passion, I am naturally constantly expanding my technical knowledge, studying everything that may be needed to improve all aspects of the final product. For the same reason, I carry out continuous field tests, which involve both my designs and those of third parties, both industrial and custom made.
I still work with pen and paper, translating the result into mockups, when necessary for the ergonomic study, following then prototyping and deployment, in close contact with manifacturers.
Skills
Drawing objects may seem simple, but if the purpose is to create something that is both beautiful, valid, and not overly difficult to put in production, things get complicated. For this, beyond improving my drawing technique, over time I studied mechanics, materials and especially ergonomics, which has always been the cornerstone of my projects.
Between 2011 and 2012 I worked for Viper, facing directly with the production and marketing problems, the evaluation of which is now an integral part of the development of each new idea. To create a successful design, if we talk of tools, it is important to understand what characteristics it should have to work best. To do this there are two ways, not alternative but complementary: constantly use the objects, and confront the greatest possible number of users, understanding their use habits, and how they translate into different demands.
There is no right or wrong, but different users with different needs, which require differentiated and targeted responses. In the case of areas where I can not have direct experience, such as combat and rescue, I have my rule: I'll shut up and listen. Undoubtedly you can partially simulate these jobs, but the actual experience of those who have faced certain situations is another thing. Fortunately my work takes me to have frequent contacts with military and police officers from around the world, providing me a lot of ideas for preparing projects dedicated to their sector.